In the age of self-care and natural remedies, more and more people are looking for ways to take control of their beauty regimen. Enter DIY beauty and skincare recipes. These homemade concoctions not only save money but also allow you to know exactly what ingredients are going onto your skin. This article offers a few DIY beauty and skincare recipes that are easy to make and leave you feeling refreshed and rejuvenated.
Exfoliating Coffee Scrub
This simple recipe combines coffee grounds, coconut oil, and sugar to create an invigorating body scrub that helps to exfoliate and moisturize the skin. The caffeine in the coffee grounds helps to tighten and rejuvenate the skin, while the sugar acts as a gentle exfoliator.
Ingredients:
1 cup used coffee grounds
1/2 cup coconut oil, melted
1/2 cup granulated sugar
Instructions:
Combine all ingredients in a bowl and mix well.
Store in an airtight container.
Massage onto damp skin in a circular motion, focusing on areas prone to dryness or cellulite.
Rinse off with warm water.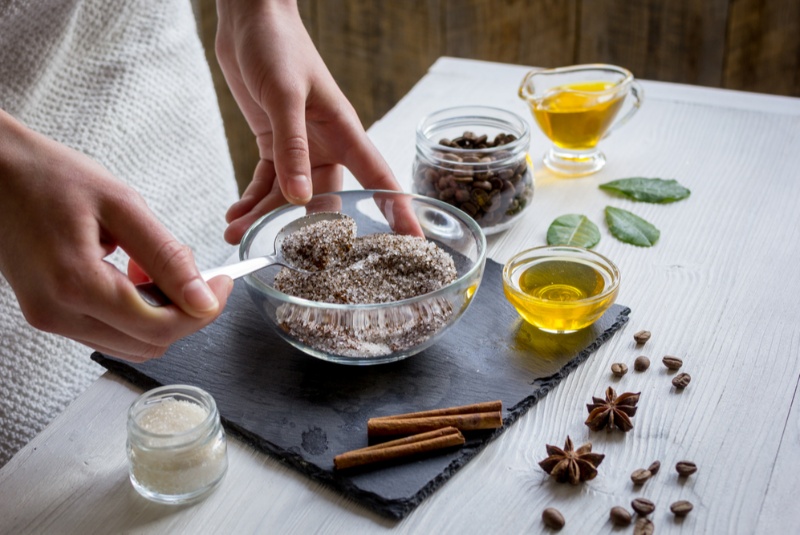 Soothing Oatmeal and Honey Face Mask

Perfect for sensitive or acne-prone skin, this face mask uses oatmeal and honey to calm redness, irritation, and inflammation. Oatmeal contains natural anti-inflammatory properties, while honey is antibacterial and helps to retain moisture.
Ingredients:
1/2 cup rolled oats
1/4 cup water
2 tablespoons honey
Instructions:
In a blender or food processor, grind the rolled oats into a fine powder.
Mix the oat powder with water until a paste forms.
Add honey and mix well.
Apply the mask to your face, avoiding the eye area, and leave it on for 15-20 minutes.
Rinse off with warm water, gently massaging the mask into your skin as you rinse.
Rejuvenating Green Tea Toner
Green tea is packed with antioxidants and anti-inflammatory properties, making it an ideal ingredient for a refreshing facial toner. This recipe also includes apple cider vinegar, which can help to balance the skin's pH and reduce the appearance of pores.
Ingredients:
1 cup water
2 green tea bags
2 tablespoons apple cider vinegar
Instructions:
Boil the water and steep the green tea bags for 10-15 minutes.
Remove the tea bags and let the tea cool to room temperature.
Add apple cider vinegar to the cooled tea and mix well.
Pour the mixture into a spray bottle or airtight container.
After cleansing your face, apply the toner with a cotton pad or spray directly onto your skin, avoiding the eye area.
Nourishing Avocado Hair Mask
This DIY hair mask is perfect for dry, damaged, or frizzy hair. The avocado provides essential nutrients, while the olive oil and honey help to lock in moisture and add shine.
Ingredients:
1 ripe avocado
1/4 cup olive oil
2 tablespoons honey
Instructions:
Mash the avocado in a bowl until smooth.
Add the olive oil and honey, mixing well.
Apply the mixture to clean, damp hair, focusing on the mid-shaft to ends.
Cover your hair with a shower cap and let the mask sit for 30-45 minutes.
Rinse out the mask with warm water and shampoo as usual.
Moisturizing Coconut and Lavender Body Butter
Ideal for dry or sensitive skin, this luxurious body butter combines the moisturizing benefits of coconut oil with the calming effects of lavender essential oil.
Ingredients:
1 cup coconut oil (solid)
1 teaspoon vitamin E oil (optional)
10-15 drops lavender essential oil
Instructions:
In a mixing bowl, whip the solid coconut oil using a hand mixer or stand mixer until it becomes light and fluffy.
Add the vitamin E oil (if using) and lavender essential oil, and continue to mix until well combined.
Transfer the mixture to an airtight container.
Apply a small amount of body butter to your skin, massaging it in until fully absorbed.
Brightening Turmeric Face Mask
Turmeric is a powerhouse ingredient when it comes to skincare, thanks to its anti-inflammatory and antioxidant properties. This face mask can help to brighten the complexion, even out skin tone, and reduce the appearance of acne scars.
Ingredients:
1 teaspoon turmeric powder
1 tablespoon plain yogurt
1 teaspoon honey
Instructions:
Mix all the ingredients in a bowl to form a smooth paste.
Apply the mask evenly to your clean face, avoiding the eye area.
Leave the mask on for 15-20 minutes.
Rinse off with warm water, gently massaging the mask into your skin as you rinse.
Remember that it is always important to patch-test any new skincare product or recipe on a small area of skin before applying it to your face or body. This helps to ensure that you do not have any adverse reactions to the ingredients. Additionally, be sure to store your homemade products in airtight containers and keep them in a cool, dry place to prolong their shelf life.
By incorporating these DIY beauty and skincare recipes into your self-care routine, you can enjoy the benefits of natural ingredients without breaking the bank. With a little creativity and a few simple ingredients, you can create a personalized beauty regimen that leaves you feeling pampered and glowing from head to toe.