Home improvement projects don't have to break the bank or consume all of your free time. With a little bit of creativity, you can transform your living space into something new and inviting without spending a fortune. In this article, we'll explore some simple and affordable home improvement projects that can make a big difference in the look and feel of your home.
Refresh Your Walls with a New Coat of Paint
One of the most cost-effective and impactful ways to freshen up your home is to paint the walls. A new coat of paint can dramatically change the appearance of any room, making it feel more inviting and updated. Choose a color that complements your existing furnishings and décor, or consider using an accent wall to add a pop of color. For an even more budget-friendly option, look for discounted paint at your local home improvement store.
Update Your Lighting Fixtures
Lighting can have a significant impact on the ambiance of your home. Replacing outdated fixtures with modern, energy-efficient options not only improves the aesthetic of your space but can also help reduce your energy bills. Consider installing dimmer switches to give you more control over the lighting in each room, and use LED bulbs for energy savings and longer-lasting light.
Add Crown Molding and Baseboards
Crown molding and baseboards can add a touch of elegance to any room. These decorative elements are relatively inexpensive and easy to install, making them a perfect DIY project for a weekend. Choose a style that complements your home's architecture and design, and don't forget to paint or stain the molding to match your existing trim.
Install a Backsplash in Your Kitchen
A new backsplash can instantly update your kitchen without the need for a complete renovation. There are many affordable options available, such as peel-and-stick tiles or even a simple coat of paint. Choose a design that complements your countertops and cabinets for a cohesive look.
Organize Your Space with Custom Shelving
Custom shelving can help you make the most of your available space while adding a touch of style to your home. Build your own shelves using affordable materials like wood or metal, and customize the design to fit your needs. Use your new shelves to display decorative items, books, or even as additional storage in a pantry or closet.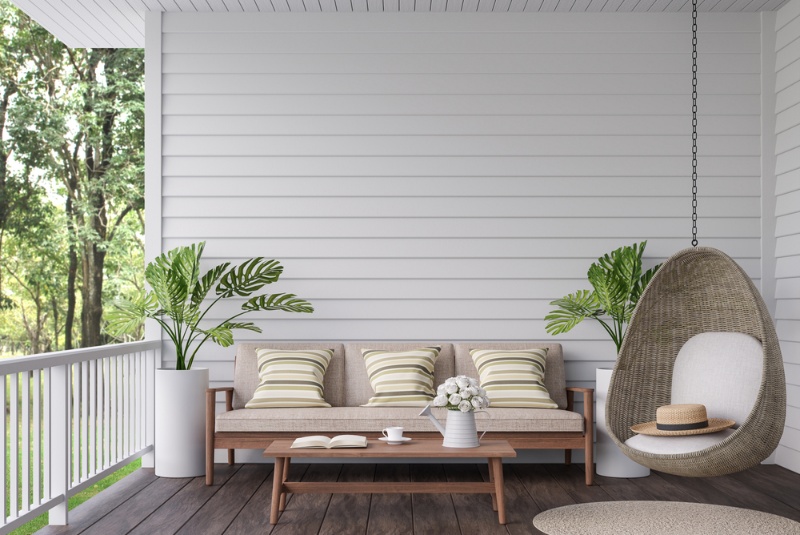 Replace or Refinish Your Cabinet Hardware
Replacing or refinishing your cabinet hardware is an easy way to update the look of your kitchen or bathroom without the expense of new cabinets. Choose new hardware that complements the style of your home and matches your other fixtures, or simply clean and repaint your existing hardware for a fresh look.
Create an Outdoor Living Space
Transform your backyard or patio into a comfortable and inviting outdoor living space with some simple updates. Purchase affordable patio furniture, add outdoor lighting, and incorporate colorful cushions and rugs to create a cozy atmosphere. Consider adding a fire pit or outdoor heater to extend the usability of your outdoor space throughout the year.
Improve Your Home's Curb Appeal
First impressions matter, and a well-maintained exterior can greatly enhance the overall appearance of your home. Planting flowers, painting your front door, and updating your house numbers are all simple and affordable ways to boost your home's curb appeal.
Update Your Window Treatments
Replacing your old window treatments with new, stylish options can make a significant difference in the appearance of your home. Consider installing blinds, shades, or curtains that offer a balance of style, function, and energy efficiency. Look for options that allow you to control the amount of light and privacy in each room while also complementing your existing décor.
Add Some Greenery
Incorporating plants into your home can add life and color to any space, improving the overall atmosphere and even purifying the air. Select low-maintenance plants that are well-suited to your home's lighting conditions and place them throughout your living space. For added visual interest, consider hanging plants or creating a vertical garden on a blank wall.
Home improvement projects don't have to be expensive or time-consuming. By focusing on simple and affordable updates, you can significantly enhance the appearance and functionality of your home without breaking the bank. Whether you choose to paint your walls, update your lighting, or add some greenery, these projects can be completed on a budget and tailored to suit your individual taste and style. So go ahead, roll up your sleeves, and start transforming your home into the inviting oasis you've always dreamed of.